Read Time:
3 Minute, 45 Second
For the past couple of years, CBD oil has been steadily taking over as one of the leading natural compounds in general holistic wellness. Since finding its way into the textile industry, it is making waves in the mass production of activewear infused with CBD.
If you want to know if CBD-infused activewear is worth making the switch, then keep reading to find out what exactly it is and how it can help your fitness lifestyle.
If you are unsure of what benefits CBD oil can hold for the textile industry, particularly the activewear industry, it is essential to know what CBD itself is. CBD oil is a compound extracted from the leaves, flowers, and stalk of Cannabis sativa plants. Despite being extracted from the same plant that marijuana is extracted from, CBD is a non-psychoactive compound. This means that exposure to CBD does not lead to alteration of the state of mind.
CBD's meteoric rise to fame in various industries is due to its many beneficial properties. These properties range from anti-inflammation, anti-oxidation, and even the possession of several fatty acids necessary for good health. CBD is also highly appraised for having soothing, calming, and nourishing effects on various aspects of the body.
What is CBD-Infused Activewear?
Thanks to the many good qualities found in CBD oil, it has made its way to the textile industry in more ways than one. CBD infusion in fabric has now evolved so much that activewear production has taken quite nicely to the trend as well.
CBD-infused activewear is precisely what the name entails. It is clothing that is created for physical exercise, which has been technologically combined with CBD oil. This technological combination allows the dispatch of the various beneficial properties of the compound onto the weather of such clothing.
The process behind this is known as microencapsulation. Microencapsulation is the embedding of droplets or CBD oil into the very weavings of the fabric used to make activewear. These droplets are first compacted into tiny capsules, which are then embedded into the fabric. This CBD infusion is best suited for clothing items made of stretchy knit fabric — a feature most easily found in most activewear items.
How Does CBD-Infused Activewear Work?
Open encapsulation into the weavings of the activewear fabric, wearers of the items are thus directly exposed to the constituents of the CBD oil. The contents of the embedded capsules are only released due to the action of the friction between the skin and the fabric and the heat produced from the skin. This friction and heat are combined to break open the capsules mechanically and release their contents onto the skin.
The droplets of CBD oil are then absorbed into the skin to take effect finally. The beneficial effects of this process range from anti-inflammation, which may be needed to counter muscle inflammation and pain, to soothing impacts, which may be required to target anxiety and stress. Those mentioned above are commonly encountered when a person is engaging in strenuous exercise.
What are the Benefits of CBD-Infused Activewear?
Reduces Muscle Pain and Inflammation
During strenuous exercise, you may experience intense muscle pain or muscle cramps. This is often due to muscle cell breakdown accompanied by severe inflammation and is not uncommon after putting your body through such rigorous activities.
Imagine if you could combine your exercising with a constant anti-inflammatory agent right in your very clothing. Activewear allows you to get as much exercise as you can while drastically reducing the amount of information and pain that you have to endure in the process.
Reduces Stress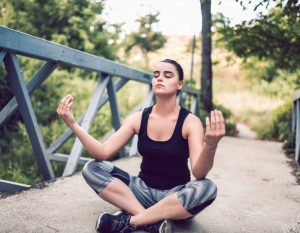 CBD oil is highly popular for encouraging the body to relax. CBD is known for helping the body maintain balance by influencing various factors such as heart rate and breathing. CBD-infused activewear can be a great ally while exercising as it helps keep your stress levels at bay while you work hard to stay fit.
Promotes Physical Performance
It is known for boosting physical performance. Prolonged exercise typically leads to information on oxidative stress that ultimately leads to poor physical performance. The terms of this kind of stress could include nausea and dizziness. CBD in activewear could help diminish these symptoms and further improve your performance as you continue to exercise. CBD-infused activewear is an entirely new and exciting field to be explored. You might find that they might enhance your fitness lifestyle and make it a whole lot more fun!